Wireless power transfer is increasingly and more widely used in recent years. As wireless communications have changed and dominated our lives and business dramatically, wireless power can be expected to meet the desire of people to get free from wires and fear of battery discharge. Different from the wireless communications, however, wireless power needs much more innovations and efforts to open the ubiquitous wireless power era.
To promote the development of wireless power technologies, the first workshop on wireless power sponsored by IEEE Power Electronics Society will be held at one of the leading research institute for wireless electric vehicles, KAIST in Korea. 2015 IEEE WoW is now looking for innovative idea about novel WPT system to create a truly connected world.It is recommended for advanced engineers to present their papers at this workshop, where a few plenary speakers present their recent achievements.
We look forward to seeing you at KAIST in Korea and enjoying this upcoming conference.
Sincerely yours,
General Chair
Chun T. Rim

Click here
to download presentation materials and essay discussion
https://prime-essay.net/
Worldwide outstanding speakers on wireless power transfer are invited as follows:
1) The Futures of EV and Power Electronics (President of IEEE PELS, Don Tan)
2) Development of IPT at the University of Auckland (Grant Covic, Auckland University)
3) Development of Shaped Magnetic Field Systems for EVs and Trains (Dong Ho Cho, KAIST)
4) Interoperable Solution for Wireless EV Charging (Grzegorz Ombach, Qualcomm)
5) Development of IPT for Factory Automation (Jung-Goo Cho, CEO of Green Power)
6) WPT From Directional Power to Omni-directional Power (S. Y. Ron Hui, University of Hong)
7) Commercialization of High Power WPT (Andrew Daga, CEO of Momentum Dynamics)

1. Wireless powers for mobile devices
2. Wireless powers for electric vehicles
3. Wireless powers for industry application
4. Wireless powers for home appliances
5. Converters for wireless powers
6. Analytical methods for wireless powers
7. Environmental impacts of wireless powers
8. Magnetics and coil designs for wireless powers
9. Components and EMC designs for wireless powers
10. Modeling, simulation, and control of wireless power systems


Place: KAIST KI Building, Daejeon, Korea
Date: June 5-6 (Fri.-Sat.), 2015 (Just after the 2015 ECCE-Asia, June 1-4)
Schedule: 7 plenary speakers & 50~100 papers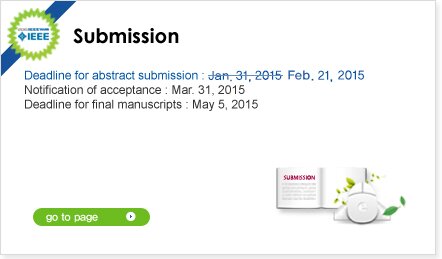 Sponsor
Technical Co-Sponsors



Power Electronics Society (PELS)




Industry Application Society (IAS)




Industrial Electronics Society (IES)




Vehicular Technology Society (VTS)




Magnetics




Power Energy Society (PES)




KAIST




DIME




ANSYS